Proudly Sponsored for over 74 years by:
The Rotary Club of Oshawa
Issue # 20
Week of April 2, 2017
This is our 75th Anniversary

Cadets of the Week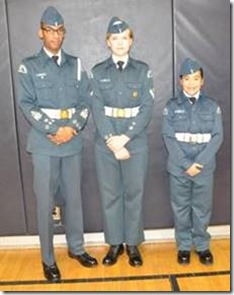 Annual Squadron Mess Dinner
Lviv Ukranian Hall
The squadron annual mess dinner was held this past Sunday at the Lviv Hall in Oshawa. The evening is one of the highlights of the cadet year and
there were over 250 cadets, guests and parents in attendance. Our guest speaker for the evening was Mrs. Marilyn Morawetz from the Jury Lands Foundation in Bowmanville.
She gave a very interesting and informative talk about the prisoner of war camp that was set up in Bowmanville during the war years.
The evening also included a slide show covering many of the squadrons activities and the squadron band provided a concert before and after the dinner
There were numerous awards and promotions announced at the dinner and we have included
a number of the photos of the promotions and award winners.
As you can see from the photos, the cadets do as much of th e speaking for the dinner as possible
This helps them with their effective speaking and gives them just one more very useful skill that they can take away from their time in cadets.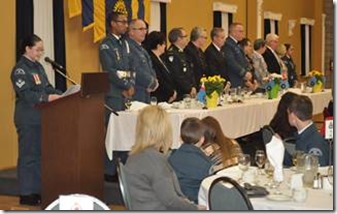 Rotary Club Post-Secondary Scholarship
Cadets wishing to apply for the $1,000 Rotary Club's post-secondary education scholarship are reminded that now is the time to apply.
Just a reminder to see Lt Mastroianni for details about the requirements to apply for this award. We would like to thank the
Rotary Club of Oshawa for their generosity in offering this to the cadets of 151 Squadron.
The Royal Order of the Glassy Boot
F/Sgt

TTalhouk

F/Sgt

D.Lloyd

F/Cpl

C.Lloyd

Cpl

K.Espe

Sgt

S.Scalia

Sgt.

D. Buller

F/Sgt

B.Wardell

F/Cpl

E. Boyden

F/Sgt

S.Alleyne

AC

A.Lang

Cpl

S. Mahadeo

AC

L.Eaton

F/Cpl.

A.Bone

F/Cpl

D.McLeod

F/Cpl

S.Baldasaro

Sgt

N.Rabjohn

Sgt.

M.Garriock

F/Sgt

S.Mastroianni

Cpl

E.Cowan

Sgt

G.Mubiala

F/Cpl

J. Fava
Wing Commander Lloyd Chadburn Remembered
151 Squadron is unique in that it carries on its uniform the name of a famous Canadian WW2 Fighter pilot.
Lloyd Chadburn was the youngest Wing Commander in the RCAF and he was awarded the Distinguished Flying Cross
not once but twice. He was also awarded the French Legion of Honour and the Croix De Guerre two of France's highest military honours.
Our Squadron is fortunate in having a cousin of Lloyd Chadburn, Karen Wingrove, who is willing to come
and talk to our cadets about Lloyd Chadburn and to show them some of numerous letters and
artifacts about Lloyd and his family.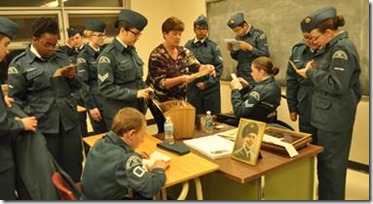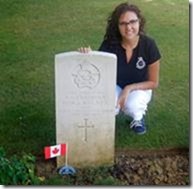 Lt. Mastroianni visiting Lloyd Chadburn's grave in France.
Thoughts from the Elliptical
It looks like we may have got the bugs out of the email we use to send the Dispatch back and forth as it is being worked on. I apologize for the lack of a newsletter over the past couple of weeks, It is frustrating when these things don't run smoothly, but hopefully that is all behind us now.
It was great to see so many people out at the dinner last week. I hope you all enjoyed it as much as I did. I am always very impressed and proud of our cadets who get up and speak in front of the crowd. It is not an easy thing to do and they all manage it very well.
I would like to remind you all about the Squadron photos tomorrow night. Please make sure you put that extra little effort into your uniform and personal appearance so that the photos look as good as possible.
A few things that I mentioned at the dinner last week that I would like to repeat. The year end trip this year will be on the long weekend in May. We will be going to Washington DC.
More details will be available next week. We are getting summer training offers in. Please be patient for these, we will let the cadets know as soon as we get them.
The Squadron is now capable of accepting all major credit cards for payment for Squadron activities. Over the years many parents have asked for this capability, it took a while but we have it now.
That's all for now.
Stay Safe and Have a Great Week
Major Bliss
Our 75th Anniversary Photo
Over the years we have had some very successful shooting teams and on more than one occasion our cadets have travelled across Canada to participate in cadet national shooting championships. The photos that follow were taken when Captain Puglisevich and a member of our shooting team participated in a national championship that was held in Nunavut.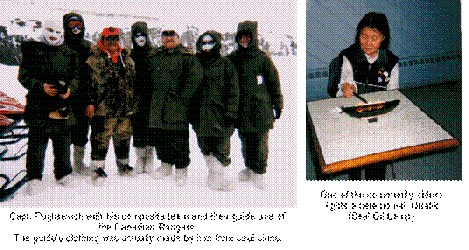 If you have comments or suggestions on ways to improve our newsletter,
our website or if you wish to unsubscribe from this email please notify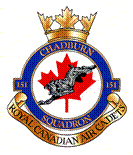 151 Chadburn Squadron
Royal Canadian Air Cadets
*** Excelsior per Debere ***Excellence through Endeavour