.
Sponsored for over 70 years by:
The Rotary Club of Oshawa
.
Issue # 2
Week of Sept. 16, 2012
.
New Recruits
Remember!!
.
The New Recruit and Parent Information meeting will be this Monday Sept. 17 at 7:30 PM at Rotary Hall.
.
If you know of someone who would like to join the Squadron please let them know.
.
The First Cadet Parade 2012
.
Our first night back at the Squadron was devoted to administration, class levels and signups for various activities with active training to start next week at Central Collegiate. If anyone feels they should have been promoted last Monday night but were not, please let your team leader know and they will bring it to the officer's attention.
.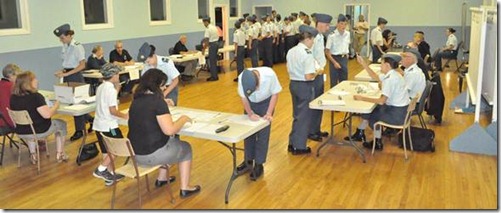 .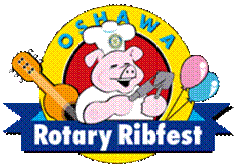 .
Although it was a rather damp weekend the Squadron was out in full force at the Rotary Club's annual Ribfest which was held this past weekend at Lakeview park here in Oshawa. This was a great weekend to give back a bit to the Rotary Club by providing volunteers to help with the cleanup. It was also an opportunity for the Squadron to do a little fund raising as the cadets were very busy selling bottled water and freezies.
.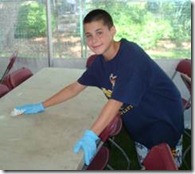 .
.
The Summer Months
.
As mentioned in last week's issue there were a number of news worthy items that occurred this past summer.
The following is a news release that we received regarding one of our cadets who attended her first summer camp at CFB Trenton.
.

Trenton Air Cadet Summer Training Centre
8 Wing / Canadian Forces Base Trenton
.
OSHAWA YOUTH TOPS INTRODUCTORY COURSE AT AIR CADET TRAINING CENTRE IN TRENTON
.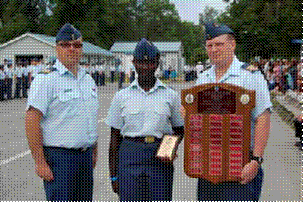 .
8 WING TRENTON, Ont. – This cadet from 151 Chadburn Royal Canadian Air Cadet Squadron in Oshawa, Ontario received the Lieutenant Colonel Beaton Award for Top General Training Cadet in Golf Squadron from her course officer Captain David Bouchard (Left) and Major Mike Campbell, Officer Commanding of the General Training course at Trenton Air Cadet Summer Training Centre. Cadet Achan is one of approximately 340 cadets who have just completed a 2-week introductory course which focuses on teaching cadets more about the various courses offered through the Air Cadet program. Cadets are given the opportunity to learn more about drill and ceremonial events, military bands, recreational sports and aviation. Approximately 1800 cadets will attend the training centre during the summer. The Trenton Air Cadet Summer Training Centre is one of 24 Cadet Training Centres across Canada aimed at giving cadets the ability to enhance their learning in a safe environment as part of a community-based development opportunity.
.
Weekly Activities
.
| | | | | | |
| --- | --- | --- | --- | --- | --- |
| Day | Date | Month | Activity | Location | Time |
| Sun | 16 | Sept | Battle of Britain Parade | Oshawa Airport South Side | 1300 hrs |
| Mon | 17 | Sept | Parent and New Recruit Information Night | Squadron HQ | 1930 – 2100 hrs |
| Mon | 17 | Sept. | Regular Training Parade | Squadron HQ | 1830 – 2200 hrs |
| Tues | 18 | Sept. | Flying Scholarship | Durham College | 1900 – 2100 hrs |
| Wed | 19 | Sept. | | | |
| Thurs | 20 | Sept. | Band Practice | Squadron HQ | 1900 – 2130 hrs |
| Fri | 21 | Sept. | | | |
| Sat | 22 | Sept. | | | |
Our Exchange Trip to England
.
Over the next few months, we will be sharing not only photos, but also memories and thoughts of those that participated in this trip on both our side and occasionally from our hosts".
.
The Moat Race at the Bishop's Palace
.

.
The Moat around the Bishop's Palace in the City of Wells Somerset England
.
For a number of years the Air Cadet Squadron in Wells has been organizing a special boat race for the residents of the City of Wells. The race has been an annual event which is held in the moat which surrounds the Bishop's Palace. The Bishop's Palace consisting of some 14 acres of buildings and gardens has been home to the Bishops of Bath and Wells for some 800 years. The Bishop's Palace dates from the early-thirteenth century when the first Bishop to hold the title Bishop of Bath and Wells received a crown licence to build a residence and deer park on land next to the Wells Cathedral. This year the race was a little different as the local participants had some new competition, a group of noisy Canadians, who as you can see in the photos, added something special to the annual event.
.
.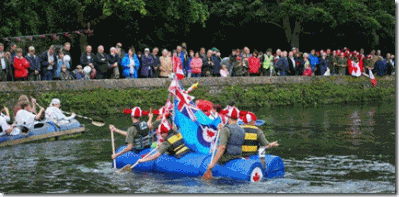 .
Annual RAA Fly In "Hawke Field"
.

.
For several years our Squadron has been helping to park cars at the annual fly-in of the Recreational Aircraft Association at Hawke Field. This privately owned airport with its 3000 ft. grass runway is located just west of Orono. There were the usual Cessna, homebuilts and seaplanes who flew in as well as some special aircraft such as the Tiger Moth below which was actually an Australian version of the famous Tiger Moth in which so many Canadians were trained on during the war years. As one can see there was also an American Navy version of the famous Harvard aircraft. All in all a great way for the cadets to be a part of and close to an active aviation event.
.

.

.
Aviation Photo of the Week
.
An Historic Aircraft
.
.
The photo above shows Squadron Leader Jeff Northcott and W/C Lloyd Chadburn with Spitfire AEA as it was during the war years when it was flown as an aircraft of 402 City of Winnipeg Squadron. Few today are aware that one of the aircraft flown by Lloyd Chadburn during the war survives to this day as a part of The Fighter Collection at The Imperial War Museum Duxford, Cambridgeshire, England. Chadburn's log book entries confirm that the aircraft AEA was flown by him on numerous occasions in the months preceding his death in 1944. This aircraft a Mark 5b Spitfire, EP120, Registration AEA was originally delivered in May 1942 to 45MU Royal Air Force. It served with 501, 19, and 402 City of Winnipeg Squadrons, finally ending with 53OTU. After a distinguished RAF career, in which its pilots were credited with 9 enemy aircraft shot down, it acted as Gate Guardian at a number of RAF airfields before being acquired by The Fighter Collection. It returned to the air on September 12 1995, and is currently based at the Duxford aerodrome in England. The second photo shows members of the Squadron who were photographed with the aircraft inside the Museum at Duxford.
.
If you have comments or suggestions on ways to improve our newsletter, our website or if you wish to unsubscribe from this email please notify rgilbank@rogers.com
.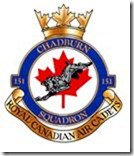 .
151 Chadburn Squadron
Royal Canadian Air Cadets
*** Excelsior per Debere ***Excellence through Endeavour
Sponsored by the Rotary Club of Oshawa