Proudly Sponsored for over 70 years by:
The Rotary Club of Oshawa
Issue # 19
Week of February 8th, 2016
Cadets of The Week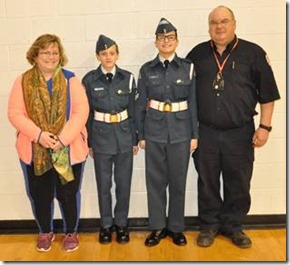 New Recruit Graduation Parade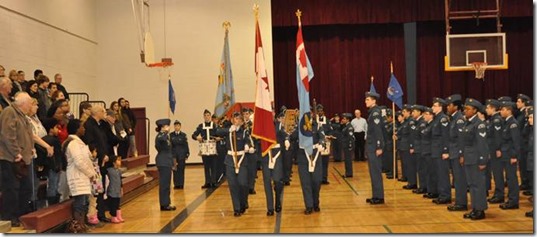 Air Cadet League Presentation
The George Moir Trophy
Presentation of Glassy Boot Awards
Five New Members Of The Glassy Boot Society Receive Their Certificates
Current members of the Glassy Boot Society
Cpl

E. Boyden

FSgt

R. Barton

WO2

B. Medina

WO2

A. Lloyd

F/Sgt

M. Singh

F/Sgt

A. Carson

WO1

E. Dellipizzi

Sgt

F.Chandler

Sgt J.Hancock

Sgt

J.Hancock

F/Cpl

H. Kennedy

Sgt

M. Anthony

Sgt

R. Sealy

Sgt

T. Talhouk

Sgt

B. Wardell

FCpl

N. Rabjohn

Cpl

J. Perreria

Cpl

R. Swanton

Cpl

A .Bone

FSgt

C. Abraham

AC

K. Espe

AC

S. Mahadeo

Sgt

M. Annis
Future Cadet Activities
Do Not Forget our Annual Valentine Dance at 420 Wing RCAFA, it is this Friday !!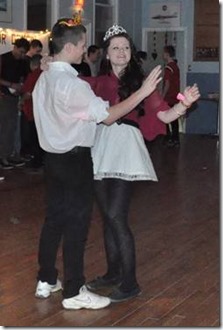 Date

Day

Month

Activity

Location

Time

12

Fri

Feb

Valentine Dance

420 Wing RCAFA

TBA

5

Sat

Mar

Skiing

Mount St. Louis

TBA

3

Sun

Apr

Mess Dinner

Lviv Ukranian Hall

1800 hrs

8 – 10

Fri to Sun

Apr

Ganaraska Forest

Ganaraska Forest

TBA

9

Sat

Apr

Gliding

CFB Mountainview

TBA

17

Tues

May

Annual Inspection

Legends Centre

2000 hrs

5

Sun

Jun

Gliding

CFB

Mountainview

TBA
Some General Observations and Rules For Pilots
Always try to keep the number of landings you make equal to the number of take offs you've made.
The only time when you have too much fuel is when you are on fire!
The propeller is just a big fan in the front of the airplane to keep the pilot cool.
When it stops you can actually watch the pilot start to sweat.
The probability of survival is inversely proportional to the angle of arrival.
Large angle of arrival, small probability of survival and vice versa.
Thoughts From the Treadmill
It was great to see so many parents and relatives out for our most recent recruit graduation. The support of family is probably the best thing to assist a new cadet in being successful in the Squadron. As I
mentioned on the parade square on Monday night, there are times over the coming weeks, months and years where your cadet will not be happy with something that has gone on at the Squadron. These are
all natural feelings and to be expected in a new environment. Please take the time to talk to your cadet and reassure them that they are in a great program and that the rewards far outweigh the bad moments.
One of the pictures above shows Mr. Dave Brooks presenting a plaque to the Squadron Warrant Officer. This is an award from the Ontario Provincial Committee of the Air Cadet League of Canada presented
to the Most Proficient Squadron in Eastern Ontario. Great Job everyone!
Sometimes it is hard to believe that with all of our activities, cadets till find a way to keep busy outside of the Squadron. Congratulations to Flight Corporal Garriock for being selected as one of Sporting Life's
athletes of the week last week. Her picture appeared on the front page of the Toronto Star's Sports section on Tuesday.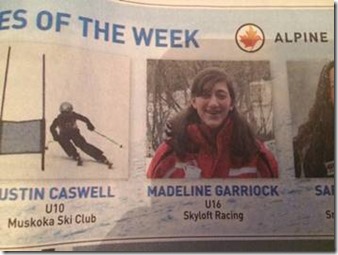 So, it appears we have at least some skiers in the Squadron. I would like to remind you all of the great rates we have secured for our skiing trip on March 5th.
Please go to our sign up genius page and register, so far we only have 15 cadets registered. It is hard to justify paying for the bus when it will be less than half full.
We are supposed to be getting some bad weather starting on the weekend, please remember to watch the web page for cancellation news of any activities.
That's all for now.
Stay Safe and Have a Great Week
Major Bliss
Aviation Photo of the Week
Google's Project SkyBender tests Internet drones at New Mexico Spaceport
Titan Aerospace, which was acquired by Google in 2014, has been working on solar-powered drones
that could provide high-speed Internet access from a high altitude.
The latest twist in the race to provide high-speed Internet access from above using high-altitude drones that could relay gigabits of data per second, using millimeter-wave, phased-array transmissions. This
type of Millimeter-wave communications could open the way for 5G wireless service that's 40 times faster than the current 4G LTE standard. To make this work Project SkyBender would have to use thousands
of transceiver-equipped aerial vehicles to knit together the network. SkyBender isn't the only project aiming to provide high-speed Internet access from overhead. Google also has Project Loon, which is
testing balloon-borne telecommunication platforms. Facebook is moving ahead with its own drone-based platform for Internet service. Meanwhile, OneWeb and SpaceX are working on satellite systems for global
high-speed data networks.
Please Note
Previous issues of the Dispatch may be found on our web site, Chadburn.org. To view past issues access the home page and then click on News.
The most recent news letters will be listed there while previous news letters may be accessed by clicking on the "view all news" heading located at the bottom of the section.
If you have comments or suggestions on ways to improve our newsletter or if you wish to unsubscribe from this email please notify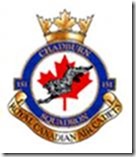 151 Chadburn Squadron
Royal Canadian Air Cadets
*** Excelsior per Debere ***Excellence through Endeavour
Proudly Sponsored by the Rotary Club of Oshawa