Issue # 14
Week of Jan 22, 2017
This Year is Our 75th Anniversary

Cadet of the Week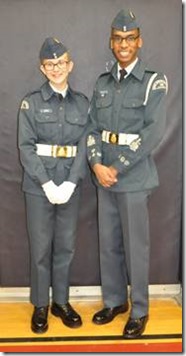 Meet The Top Cadets In The Sale Of
Air Cadet League Lottery Tickets
Not everyone may be aware that the Air Cadet League in Ontario holds a lottery throughout the province to
raise funds to support the glider flying program and other league expenses. In return each cadet unit participating also
receives a portion of the funds generated. This past week the Squadron completed the sale of its lottery
ticket allotment several months ahead of the closing date for ticket sales.
The cadets above were the top sellers in the squadron of League lottery tickets. These four cadets actually sold between
them a total of 36 books of tickets and the top cadet sold 18 books of tickets. This is an impressive achievement
as each book is actually worth $60. In other words these four cadets succeeded in generating $2160.00 for the cadet program.
Credit is certainly due to all the cadets who participated but credit is also due to Capt. Chandler whose
untiring efforts in managing this program helped to make it so successful.
Simcoe Hall Settlement House
This past week we received the following letter
From the Simcoe Hall Settlement House
Dear Friends
On behalf of the children and families of Simcoe Hall
Settlement House please accept our sincere appreciation for
your thoughtful donation in support of the 2016 Christmas
Food and Toy Drive.
Thank you for remembering us and for joining our efforts to
care for over 1500 less advantaged families /clients in our
community who are still struggling this Christmas.
Hunger and Poverty are very complex social and economic
issues, but with your help we can at least ensure that there will
be a place at the table and gifts under the tree this holiday
season.
We wish our donors, their families, friends and co-workers the
very best of health, peace and prosperity in the new year.
Elisabeth Fernandes, Executive Director
Simcoe Hall Settlement House
Promotion to Flight Sergeant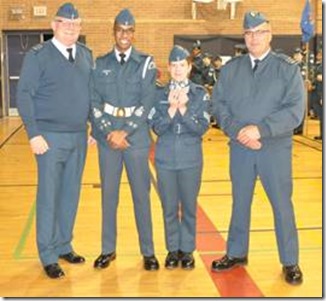 This week the squadron welcomed a new Flight Sergeant.
Our congratulations to her on this important achievement.
New Recruit Course
Just so everyone is aware our second recruit course is getting close to its graduation parade
as uniforms were handed out this week
Royal Order of the Glassy Boot
WO 1 C.Abraham

CPL

C.Ye

WO2

M.Singh

WO2 A.Carson

F/Sgt. F.Chandler

F/Sgt T.Talhouk

F/Sgt D.Lloyd

F/Cpl

C.Lloyd

Cpl

K.Espe

Sgt

S.Scalia

Sgt.

D. Buller

F/Sgt

B.Wardell

F/Cpl

E. Boyden

F/Sgt

S.Alleyne

AC

A.Lang

F/Cpl

S. Mahadeo
Power Familiarization Flying
We have had some great success with our familiarization flying program so far this year. If you would like to go flying please sign up on the Signup Genius site.
http://www.signupgenius.com/go/10c0849aaac2ba3fd0-familiarization
It's Coming "Chadburn Ski Day" Mount Ste Louis Moonstone
Once again, the Squadron will be heading to Mount St. Louis – Moonstone ski resort. We have planned to take a bus load of cadets skiing on February 19th. Thank you to the Rotary Club for subsidizing the cost of this trip for every cadet. We have received great pricing from Mount St. Louis and the Squadron will be covering the cost of the bus. The prices are on the Signup Genius web site. Money will be collected starting in a couple of weeks. We will let the cadets know when their money is due. For skiers or amateurs or experienced skiers this is one activity cadets will not want to miss. So make sure you sign up.
www.SignUpGenius.com/go/10C0849AAAC2BA3FD0-151squadron
Our 75th Anniversary Photo
Summer Camp Photo RCAF Station Clinton 1959
It should be noted that of this group one cadet is deceased but at least 6 others are on the email list for this newsletter and
4 others are known to the Squadron. One former cadet Brian Seaton top right just returned from England this past week.
where one of his stops was Duxford home of the fighter collection and Lloyd Chadburn's Aircraft , AEA a mark 5 Spitfire.
If you have comments or suggestions on ways to improve our newsletter,
our website or if you wish to unsubscribe from this email please notify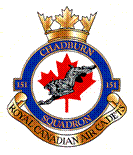 151 Chadburn Squadron
Royal Canadian Air Cadets
*** Excelsior per Debere ***Excellence through Endeavour