Proudly Sponsored for over 70 years by:
The Rotary Club of Oshawa
Issue # 13
Week of Dec 13, 2015
Outdoor Training For Our Cadets
At The Ganaraska Forest Centre
A Squadron tradition that has been going on every fall for over 55 years in the Ganaraska Forest
Cadets who go on this rather rigorous and sometimes chilly weekend soon find out that there are a lot of classes such as map reading, orienteering, survival skills such as shelter building, fire starting and general bivouac setup for the hopefully unlikely event that they find themselves in a survival situation.
Just to keep the interest up the cadets run where ever they are going. We also have three famous logs which must be moved from A to B at the whim of the squadron staff and NCO's.
Cadets have not lived until they get a chance to run one of our logs around the camp.
Cadet Graduation
It was graduation night this past week for one of the Squadron's most dedicated and enthusiastic cadets, Squadron Warrant Officer Amanda Hembruff. Amanda joined on her 12th birthday and graduated on her 19th birthday, making her one of very small group who can say they spent seven full years in the Squadron as a cadet. Making this even more impressive is the fact that she is now in her second year of nursing at UOIT. We all join together in wishing her well as she works toward her nursing degree.
The Glassy Boot Award
| | | | | |
| --- | --- | --- | --- | --- |
| LAC E. Boyden | FSgt R. Barton | WO2 B. Medina | WO2 A. Lloyd | F/Sgt M. Singh |
| F/Sgt A. Carson | WO2 E. Dellipizzi | F/Cpl F.Chandler | Sgt J.Hancock | F/Cpl J.Hancock |
| F/Cpl H. Kennedy | F/Cpl M. Anthony | F/Cpl R. Sealy | F/Cpl T. Talhouk | F/Cpl B. Wardell |
| | | | | |
Achievement Point Standing
Cadets in the squadron know that there is a Squadron Achievement program that rewards cadets with points when they participate in any cadet activity.
The object of the program is to encourage cadets to get involved and to get them participating in the
Squadron's many different activities. The totals for all cadets are now posted on the website.
Cadets and parents should also remember that the staff refers to this data when selecting cadets for awards, promotions and summer camps.
Here is a list of the current top 15 cadet achievers to date.
Rank

Last Name

First Name

Total

Stand-

ing

FSGT

Carson

Alexandra

f

74

1

1

CPL

Paterson

Emma

f

65

2

1

CPL

Lloyd, C

Caitlan

f

63

3

1

FCPL

Rabjohn

Nicole

f

61

4

1

SGT

Chandler

Fiona

f

56

5

1

FSGT

Singh

Muskaan

f

56

5

0

CPL

Fava, S

Saccara

f

53

6

1

SGT

McDougall

Robert

m

52

7

1

FSGT

Abraham

Christoper

m

50

8

1

CPL

Bone

Andrea

f

48

9

1

CPL

Lang

Ethan

m

48

9

0

FSGT

Barton

Roman

m

46

10

1

SGT

Hancock, Jes

Jessica

f

46

10

0

WO2

Medina

Brandon

m

46

10

0

CPL

Boyden

Emily

f

45

11

1

SGT

Lloyd, D

Delaney

f

45

11

0

CPL

Dawson

Simon

m

44

12

1

WO2

Flanagan-Dellipizzi

Emma

f

44

12

0

FSGT

Milne

Tanya

f

44

12

0

SGT

Hancock, Jas

Jasmine

f

43

13

1

SGT

Hewett

Bradley

m

42

14

1

FCPL

Mahadeo, R

Ravi

m

41

15

1
Future Cadet Activities
| | | | | | |
| --- | --- | --- | --- | --- | --- |
| Date | Day | Month | Activity | Location | Time |
| 21 | Mon | Dec | Roller Skating | Coachway Gardens | 1830 hrs |
Thoughts From the Treadmill
As I sit here in a hotel in Buffalo waiting for my turn to work a train home, I luckily get chance to at least talk to my DCO and some of the other staff. I remember not too very long ago that when I went on these trips, I would be out of the loop for a couple days at a time and even then, we would still be limited to very bad reception and absolutely no chance of me being able to read the Dispatch or other email. As frustrating as technology is sometimes, it is pretty incredible.
I want to thank all of the staff who gave up their weekend to participate in the Ganaraska Training weekend. I realize it may seem that I'm always talking about the amount of time some of these things take to plan and execute, but I'm not sure the parents, or even the majority of cadets for that matter, appreciate how much work goes in to making a successful training weekend. From the first discussions regarding a field training exercise up until the day after it all ends, the officers in charge of these things don't often go more than a day or two without something coming up that could throw a wrench into the works. Food, lodging, transportation (of cadets and equipment), training plans and equipment lists are all arranged months in advance, then someone points out a scheduling conflict and we have to change everything. As frustrating as that may be for the parents, believe me, it isn't any easier for us. Closer to the date, the filling in of names begins, who will teach what, who will drive the rental vehicle out, who fills propane tanks, you name it, we try to put a name to every task. All this is done while the staff still do their primary jobs in the Squadron, (not to mention their civilian jobs and their home life as well). I could go on and on about this, but I'll cut it short and just say thanks again to Captain Weigel and 2Lt Stacey for taking the lead on this and doing such a great job, and to the rest of the staff, you've heard it before, but we really couldn't run this program without each and every one of you pitching in.
Except for three books of lottery tickets that are still out, we are done the OPC lottery for another year. Thank you to everyone who did their part and sold the tickets that were assigned to them. To those few cadets that lost their tickets, hopefully you learned a lesson about safeguarding things like this and it won't happen again. Thanks very much to Mrs. Helen Chandler and Captain Chandler for taking the lead on the tickets this year. I would also like to point out a couple of cadets for their outstanding performance in selling tickets. Corporal Bone has sold over 15 books of tickets (mostly door to door in her neighbourhood and Corporal Nolan has sold over 12 books. Makes it kind of hard to accept a cadet's story that they tried everything to sell them and couldn't sell one book.
Great Job!
Finally, last but certainly not least, a very big thank you to Mrs. Hurley for once again running our annual Poinsettia Sales fund-raiser. It all ran very smoothly with a minimal impact on our training. I know it is another "money thing", but just to put this in perspective, the funds raised from this activity will pay for the Squadron's phone bill for the entire year, and this frees up other money to do more activities with the cadets.
I wasn't able to be at the Squadron last Monday to bid farewell to Warrant Officer Hembruff, so in a bit more public forum than I would normally say these things, here goes. It has been great watching you grow up in the Squadron, you have put a lot of time and effort into your cadet career, I hope it has been as rewarding as possible for you. Your compassion and caring for your subordinates shines through for me and it tells me that you will be fantastic in your chosen field of nursing. BZ
That's all for now
Stay Safe and Have a Great Week
Major Bliss
Aviation Photo of the Week
A damaged B 17 bomber makes it home during the war.

The photo is the result of a mid-air collision on February 1, 1943 between an American B-17 bomber and a German fighter. The photo became the one of the most famous photographs of WW II. An enemy fighter attacking a 97th Bomb Group formation went out of control and crashed into the rear of the fuselage of a Flying Fortress When it struck, the fighter broke apart, but left some pieces in the B-17 The left horizontal stabilizer of the Fortress and left elevator were completely torn away. The two right engines were out and one on the left had a serious oil pump leak. The vertical fin and the rudder had also been damaged, The fuselage had been cut almost completely through connected only at two small parts of the frame the tail actually bounced and swayed in the wind and twisted when the plane turned.
The tail gunner was trapped because there was no floor connecting the tail to the rest of the plane. While the crew was trying to keep the bomber from coming apart the pilot continued on his bomb run and released his bombs over the target. When the bomb bay doors were opened, The wind turbulence was so great that it blew one of the waist gunners into the broken tail section. It took several minutes and four crew members to pass him ropes from parachutes and haul him back into the forward part of the plane. When they tried to do the same for the tail gunner, The tail began flapping so hard that it began to break off. The weight of the gunner was adding some stability to the tail section, so he went back to his position. The turn back toward England had to be very slow to keep the tail from twisting off. For a brief time, two more Me-109 German fighters attacked the aircraft. Despite the extensive damage, all of the machine gunners Were able to respond to these attacks and soon drove off the fighters. The tail gunner had to shoot in short bursts because the recoil was actually causing the plane to turn.
Once on the ground an ambulance arrived, it was waved off because not a single member of the crew had been injured. No one could believe that the aircraft could still fly in such a condition. The Fortress sat placidly until the crew had all exited through the door in the fuselage and the tail gunner had climbed down a ladder, at which time the entire rear section of the aircraft collapsed.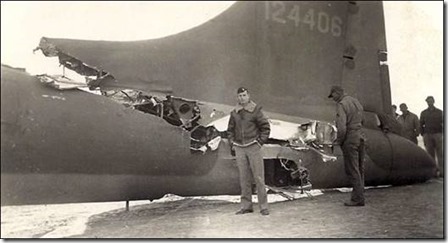 Our Website Chadburn.Org
Previous issues of the Dispatch may be found on our web site, Chadburn.org. To view past issues access the home page and then click on News.
The most recent news letters will be listed there while previous news letters may be accessed by clicking on the "view all news" heading located at the bottom of the section.
If you have comments or suggestions on ways to improve our newsletter or if you wish to unsubscribe from this email please notify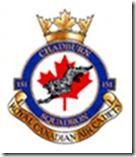 151 Chadburn Squadron
Royal Canadian Air Cadets
*** Excelsior per Debere ***Excellence through Endeavour
Proudly Sponsored by the Rotary Club of Oshawa