Proudly Sponsored for over 70 years by:
The Rotary Club of Oshawa
Issue 1
Week of Sept. 7, 2014
Attention All Cadets
The first cadet parade of the 2014-15 Cadet Training year
will be held tomorrow evening
Monday, September 8, 1900 hrs. at:
The "Squadron Head Quarters" 254 Centre Street
After a very rewarding and successful summer training period the squadron is once again ready to resume its normal fall and winter training program. There have already been several staff and NCO meetings to prepare for another very active and dynamic training year. NCOs' have been assigned to fill the various positions such as recruit training staff and there have been several other positive changes made to the organization.
The first night back will be mainly devoted to administration concerns. Cadets can expect the evening to be somewhat hectic as the Squadron will have to cope with a number of important administrative issues such as;
a. Reviewing the cadets records to update any changes to a cadet's address, telephone number etc.
b. Having cadets sign up for the sale of lottery tickets.
c. Tag day sign up
d. Supply issues
e. Promotions
New Recruits
If readers know of youth who are interested in becoming an air cadet in our squadron
please let them know that a Parent/Cadet information Night will be held at
Rotary Hall, 254 Centre Street, Oshawa
7.30 PM, Monday, September 15, 2014 .
The Parking is available across the road at Village Union P.S., access off of Gibb Street. The briefing will last about 1 hour with time for questions at the end.
To prepare for the recruit course please review the information on our squadron website, https://www.chadburn.org/how-to-join/aboutcadets.
The forms to join cadets are available on the squadrons website.
Please download the Recruit Application Package, complete the forms and give to the recruiting staff on the information night.
https://www.chadburn.org/how-to-join/becomeacadet.
Please remember new recruits must provide one of the following forms of Identification:
Canadian Birth Certificate or
Canadian Passport or
Canadian Citizenship Card or
Canadian Landed Card
Please also show your Ontario Health Card.
We quite often hear that parents and young people have never heard of the Canadian cadet program and the amazing opportunities that are available to youth in this organization. Remember you are one of the people who know about this program and its activities. Make sure you take a moment to let people know about the Squadron and how youth can join the air cadets.
Air Rifle Marksmanship Clinic Rotary Hall
Saturday September 14th,
On Saturday we will be running an open marksmanship clinic at the hall from 2 to 5 PM.
This will be on opportunity for cadets to learn about the marksmanship team, range safety, shooting techniques, as well as, have a chance to test out their skills.
Cadet of the Week
As this is the first week back after the long summer break there will be no cadet of the week in this issue or next week. However as soon as our regular training parades are well under way the NCOs' will be back once again looking for outstanding cadets to feature in the Dispatch. If you would like to see your photo in our newsletter, it's easy, just be the sharpest cadet on a Monday evening training parade and your photo will appear.
Royal Order of the Glassy Boot
You will notice that the membership list for our Squadron's most noble order of achievement and recognition is now totally blank. The reason is quite simple. Cadets who may have received this award last year must now in accordance good Air Force tradition re qualify, if they wish to have their names published in our newsletter.
We are looking for hard working, sharp cadets who indeed meet the standards of the Royal Order of the Glassy Boot. So there be no doubt the standard for acceptance has not been revised, simply stated, if it's not glass all around you need not apply for only the best are allowed membership in this Society.
The challenge is there, if you wish to see your name in the newsletter start working on your boots today. Last year 31 members of the Squadron succeeded in gaining membership in this exclusive order. This year or goal is to get at least 50 cadets on this list.
WELCOME BACK FROM THE CO
I would like to take this opportunity to welcome each and every cadet and staff member back to the Squadron. I hope everyone had a safe and enjoyable summer break. The staff have been busy preparing an exciting training schedule and a great list of extra activities for the upcoming year. You will notice that there are a number of staff changes and these will be explained in the coming weeks. Please make sure that you are in attendance on Monday night and have both your Squadron ID card and your provincial health card with you, it will be a hectic evening, but the administration needs to be done at the beginning of every year. If there are any changes to your address or phone number, please make sure you have them available for the staff to copy down. Supply will be in operation tomorrow night, if you require new uniform parts because you have outgrown the older things, please make sure to have the item to exchange.
I will be climbing back on the treadmill and sharing my thoughts in the coming weeks, but for now, be prepared to hit the ground running for this training year, we are going to be busy and you don't want to get left behind.
Stay Safe and Have a Great Week.
Major Bliss
The Annual Boat Race in the Moat at the Bishop's Palace
1955 City of Wells Squadron, The Air Training Corps
Devon England
Monday 25th August 2014
Having a moat race in England may seem of little interest to Canadian cadets but to our Squadron it brings back some wonderful memories of our trips to England. If you check out our website home page you will be able to see our entry in the moat race on our last trip to England. To get some local atmosphere we have included some comments from one of the squadron officers and as you can see this year it was apparently somewhat wet and cold.
"It must have been the wettest day on record for a Bank Holiday Monday – sheesh, it never stopped all day. We had to cut the day short in the end due to worries of the cadets getting too cold – which was a shame. For the first time, the junior races were only contested by Air Cadet teams. We normally get a couple of other youth teams compete, but not this year. We had 2 rafts in this year – one was done to commemorate the 70th anniversary of the D-Day landings, and the other as the Red Arrows which are 50 years old this year. The D-Day raft won the Fancy Dress prize and the Red Arrows one won the best designed raft – a great result. A lot of hard work went into the rafts and the cadet's kit I can tell you!
The Red Arrows raft and crew won the Air Cadet Shield – which was great. The D-Day raft was in the final, and came in third (it's a heavy beast)."
F/L John Blackburn
Squadron Band Practice Update
After an award-winning year last year, the Band will be up and running again starting this coming Thursday.
Thursday September 11th: RETURNING BAND MEMBERS ONLY (Comp & Non-Comp band)
Thursday September 18th: RETURNING BAND MEMBERS ONLY (Comp & Non-Comp band)
***Band contracts can be signed all night***
Thursday September 25th: PRACTICE OPEN TO NEW BAND MEMBERS
***Band contracts can be signed all night***
Notes:
All returning band members should be at practice this Thursday in order to ensure they get their instrument. Instruments will not be held for no-shows.
Parents MUST come to Squadron Headquarters (Rotary Hall) to sign their cadet's INSTRUMENT LOAN CONTRACT before cadets will be allowed to take instruments home. THIS CONTRACT IS MANDATORY FOR ANYONE WISHING TO BORROW A SQUADRON INSTRUMENT. This does not apply to cadets with their own instrument or the use of a school instrument. Parents who are unable to sign contracts on Thursdays should see Lt. S. Mastroianni at the Hall on a Monday evening.
Aviation Photo Of the Week
This summer has been a memorable occasion in the world of aviation. As everyone knows there are only two Avro Lancaster's still flying today anywhere in the world. The first is the Lancaster from the Canadian Warplane Museum in Hamilton and the second is the Lancaster which is flown by the Battle of Britain Memorial Flight in England. So here they are the only two airworthy Lancaster's in the world flying together in Bournemouth England.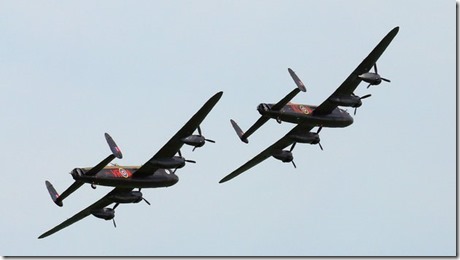 Most Canadians have probably heard of the CWH Lancaster in Hamilton but they may not be aware of the Battle of Britain Memorial Flight so we have included a short video illustrating some of the aircraft and activities of this historic aviation group.
http://www.bbc.com/news/uk-england-lincolnshire-23669402
If you have comments or suggestions on ways to improve our newsletter, our website or if you wish to unsubscribe from this email please notify
151 Chadburn Squadron
Royal Canadian Air Cadets
*** Excelsior per Debere ***Excellence through Endeavour
Proudly Sponsored by the Rotary Club of Oshawa