Parents, cadets, and staff of 151 Chadburn Squadron
The 2022 Air Cadet League of Canada – Ontario Provincial Committee's annual lottery is NOW OPEN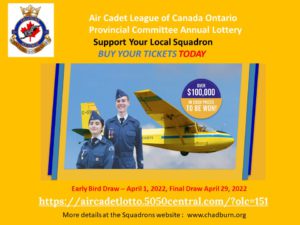 The Air Cadet League of Canada – Ontario Provincial Committee (OPC) is a civilian organization in partnership with the Canadian Armed Forces. The OPC supports Ontario Air Cadets through the Effective Speaking and Gliding Familiarization Programs.
The OPC has launched their annual Lottery Campaign – this year the lottery continues to be 100% online.
Tickets are $10 each
Each cadet must sell a minimum of 6 tickets
Mandatory tickets must be sold by Wednesday, April 20th
Lottery Prizes – over $100,000 in cash prizes!!!
1st Grand Prize: $58,000
2nd Grand Prize: $28,000
3rd Grand Prize: $8,000
Three consolation prizes of $800
Early bird prize: $4500
Early bird draw date: April 1st@ 11:00 am (tickets must be purchased by 10:00 am)
Grand prize draw date: April 29th@ 11:00 am (tickets must be purchased by 10:00 am)
What's in it for our cadets?
For every mandatory (quota) ticket sold, the squadron will receive a portion of the ticket sales. If we can sell over quota tickets, the portion of the sales the squadron receives increases.
Each cadet will receive 2 achievement points for selling their mandatory allotment of 6 tickets, and then 1 achievement point for every additional 6 tickets.
Prizes (gift cards) will be awarded to the top 3 cadets who sell the most lottery tickets at Chadburn Squadron.
How to buy tickets?
https://aircadetlotto.5050central.com/?olc=151please ensure that you use this link ending in "151" or select "Oshawa 151" from the drop-down menu for the Organization field on the order form, to ensure our Squadron is credited with the ticket sales.
 ***NOTE**** some browsers will prompt you to Allow your location, please accept this to enter the Lottery website. Also, if you are using a VPN, in some cases it will block you from entering this website. Please disengage the VPN and it should work. 
Information to buy tickets can also be found on our website (.chadburn.org) and on our Facebook page (151 Chadburn Squadron – Royal Canadian Air Cadets)
Once tickets have been purchased, please send an email to lotterytickets@chadburn.org with the cadet's rank and name, in addition to the date, number of tickets, and name of the person who bought the tickets. This is necessary to ensure the proper cadet is credited for their sales.
e.g. FSgt A. Bloggins – 06 Mar 22, 3 tickets to Mr. John Bloggins
How can parents/guardians help?
Share draw details on social media
Share the link with your friends and family
We have set the deadline for our cadets to complete their mandatory ticket sales after the Easter weekend, in the hopes that you can share this at your holiday gatherings
As per Ontario lottery regulations, these tickets may only be sold to adults 18+, within the province of Ontario. If you have relatives or friends living outside of the province who wish to purchase tickets, please facilitate their purchase.
If for religious or spiritual reasons, you are unable to sell your tickets, please contact Captain Di Loreto @ lotterytickets@chadburn.org
Thank you in advance for your continued support of 151 Chadburn Squadron.