Proudly Sponsored for over 70 years by:
The Rotary Club of Oshawa
Issue # 16
Week of Feb. 22, 2015
Our Newsletter – The Dispatch
Few will know that our first squadron newsletter was sent out November 30, 2001.  It may come as a surprise to new cadets and their parents to know that we have actually been publishing the Dispatch for over 12 years and during  this period we have missed very few issues if any. It was started to help keep cadets, their parents, alumni and friends up to date and informed of the many activities that happen here at 151. Today our mailing list contains 450 addresses and it now extends to cadets, staff and alumni across Canada as well as to friends in the USA, England and Singapore.
A Message From the Editor
Nancy and I would like to express our sincere thanks to all of those who called, sent best wishes and visited us during my recent hospitalization. I unfortunately faced the prospect of having pancreatic cancer and I am now pleased to say that I am now cancer free.  Your emotional support and gifts were greatly appreciated during this difficult time. I would also like to thank Don Biffin for his efforts in keeping our newsletter going and a special thank you must also go to the cadets who showed up at my door with the largest get well card that I have ever seen.
Thank you all for your support and encouragement
Ted Gilbank LCol (Ret'd)
Roller Skating – Coachlite  Gardens
Yes it was a Family Day on Monday so there were no drill or aviation classes. However cadets did have a chance to try out their skills 
at the Roller Rink. As you can see it was a lot of fun and we hear that there will be another skate later on this year.

Weekly Cadet Activities 
| | | | | | |
| --- | --- | --- | --- | --- | --- |
| Date | Day | Month | Activity | Location | Time |
| 23 | Mon | Feb | Regular Training | Central Collegiate | 1830 – 2200 hrs |
| 24 | Tues | Feb | Rifle Team Practice | Squadron HQ | 1830 – 2130 hrs |
| 25 | Wed | Feb | Drill Team | Squadron HQ | 1900 – 2130 hrs |
| 25 | Wed | F5b | Boot Shining | Squadron HQ | 1900 – 2130 hrs |
| 26 | Thurs | Feb | Band Practice | Squadron HQ | 1900 – 2130 hrs |
| 27 | Fri | Feb | Sports | Central Collegiate | 1800 – 2030 hrs |
| 28 | Sat | Feb | Rifle Team | Squadron HQ | 1300 – 1700 hrs |
| 1 | Sun | Apr | NCO Course | Squadron HQ | 1230 – 1700 hrs |
For details of the Squadron's many activities please review the squadron
calendar by following this link :
https://www.chadburn.org/activity-calendar-2
Squadron Mess Dinner
Dear Parents, Guardians, Staff and Cadets,
It is my pleasure to invite you and your family to 151 Chadburn Squadron's Annual Cadet Mess Dinner.  This dinner has traditionally been held mid-year to feature cadet achievements and to present a number of awards.
The dinner will once again be held at the Lviv Ukrainian Hall, 38 Lviv Blvd, (located off Simcoe Street South, one block north of Bloor Street) on Sunday, March 29, 2015.  Doors will open at 5:15PM and dinner will be served at 6:00PM.  The program will end at approximately 10PM. 
The tariff is $20.00 per adult and $18 per cadet/child. Paying by cheque is the preferred method of payment, please make it payable to 151 Chadburn Squadron.  Please confirm your attendance to LT Ron Brosseau at 905-985-2913 or ronandjane@xplornet.com no later than Monday March 23, 2015. 
Please note we will not reserve seating unless tickets are paid for in full. We recommend that you purchase tickets early as seating capacity is limited, and our caterer requires sufficient notice to plan for the dinner.    
Appropriate dress for the occasion is as follows:
Military:   Mess Kit (with miniatures) or DEU Number 2 (with medals)
Civilians:   Business dress/ Semi-formal attire
This dinner is an excellent opportunity to meet our guest speaker and staff members. We value your continued support and look forward to seeing you there.
Sincerely yours,
Major Dale Bliss CD
Commanding Officer
151 Chadburn Squadron
Warrant Officer Promotions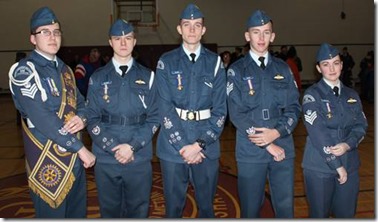 This past week the Squadron  promoted 3 of our senior cadets to the rank of WO2.
Our congratulations to all for achieving this milestone in their cadet careers.
An alumni we would like to meet
Johanna Wagstaffe a former Squadron Warrant Officer from 151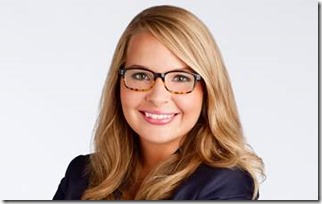 Johanna Wagstaffe
Meteorologist | CBC News Vancouver | CBC News Now
Johanna Wagstaffe is an on-camera meteorologist for CBC News Network covering national and international weather stories. She joined the CBC News: Weather Centre in the summer of 2007.Wagstaffe's strong background in seismology and earth science is often utilized by CBC for insight into science stories. Some of the stories she has covered recently include the Copenhagen Climate Conference, major seismic events and space missions.
Johanna Wagstaffe graduated with an honours degree in geophysics from The University of Western Ontario. She was first exposed to weather forecasting as a summer intern at the Environment Canada Severe Weather Centre and then obtained her meteorology certificate from York University.
Outside of work, Wagstaffe enjoys flying and has both her glider's and pilot's licence.
Royal Order of the Glassy Boot
The following cadets have all been accepted as full members in the special and exclusive society
known  as the "Royal Order of the Glassy Boot."
| | | | | |
| --- | --- | --- | --- | --- |
| WO1/WO2 | WO1 Bliss | WO2 Boyden | WO2 Hembruff | WO2 Lloyd, D |
| | WO2 Shaw | WO2 Sheppard | | |
| FSGT | FSgt Barton | FSgt Brandow | FSgt Dellipizzi | FSgt Gagnon |
| | FSgt Katzer | FSgt Lloyd, A | FSgt O'Brien | FSgt Sam |
| | FSgt Travis | | | |
| SGT | Sgt Abraham | Sgt Annis | Sgt Carson | Sgt Davies |
| | Sgt Hewett | Sgt Kennedy | Sgt Loyst | Sgt Mejia |
| | Sgt Milne | Sgt Nemeth | Sgt Singh | |
| FCPL | FCpl Alleyne | FCpl Chandler | FCpl Hancock | FCpl Hayes |
| | FCpl Katzer | FCpl Sealy | FCpl Talhouk | |
| CPL | Cpl Anthony | Cpl Garroick | Cpl Rabjohn | |
Skiing at Mount St. Louis Moonstone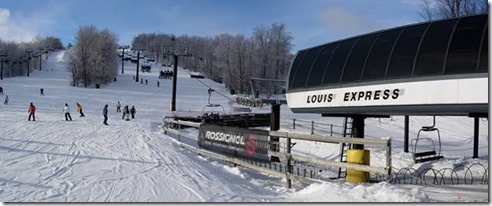 REMEMBER
If you wish to go skiing you must sign up by March 2.
The Squadron is paying for the bus and there is $10 meal allowance.
Payment for the  entry fee and equipment is to be made by cheque and made out to 151 Chadburn Squadron.
If  you wish to attend you may sign up at:
www.SignUpGenius.com/go/10C0849AAAC2BA3FD0-march
Thoughts From the Treadmill
I'd like to welcome Colonel Gilbank back from his time off.  He gave us quite a scare and we are all happy that he is making his return to Squadron life.  As Gil mentioned in his blurb, Mr. Biffin was a great help in keeping the Dispatch going in his absence. 
Ticket sales for the annual Cadet Mess Dinner will start on Monday.  I am pleased to announce that through the hard work of Captain Weigel, we will have an outstanding guest speaker this year.  Mr. Ted Barris, a well-known voice on CBC radio as well as an author of 16 non-fiction books on Canadian History has agreed to join us for dinner.  This will prove to be a very popular event, so please get your tickets early.  Something that we aren't normally faced with is a paying a fee or honorarium to our guest speaker.  Mr. Barris traditionally asks for a fee that he then donates to a charity that is close to his heart.  To provide this honorarium, we will hold a 50/50 draw at the dinner with half of the proceeds going to Mr. Barris' charity and the other half going to a lucky winner at the dinner.  We will also be doing some promotions and handing out some trophies to deserving cadets.  Lt. Brosseau will be available after closing parade to sell tickets.
Work is being done on the Year End Trip that will be held on the long weekend in May.  This year, we will be visiting Ottawa and the surrounding areas.  More information as well as sign up lists will be available shortly.  We are expecting the price to be in the $200.00 range, but don't forget, the top earner in our upcoming Tag Days will receive their trip for free and every cadet will receive 5% of their tagging proceeds against the price of their trip. 
Introducing a new item for the Dispatch
"Rules of the Air"
Some practical thoughts and comments regarding the world of aviation.
"The only time you have too much fuel is when you are on fire"!
Aviation Photo Of the Week
A New Jet Liner, The Airbus A350-1000
Air bus has done something that is perhaps unheard of in the aviation world. Formation flying with 5 of the new Air Bus A350 aircraft passenger jets.
To see this amazing sight check out the following video of this new aircraft flying in formation over the French country side. 
http://videos.airbus.com/video/94caba54003s.html
If you have comments or suggestions on ways to improve our newsletter, our website or if you wish to unsubscribe from this email please notify
151 Chadburn Squadron
Royal Canadian Air Cadets
*** Excelsior per Debere ***Excellence through Endeavour
Proudly Sponsored by the Rotary Club of Oshawa